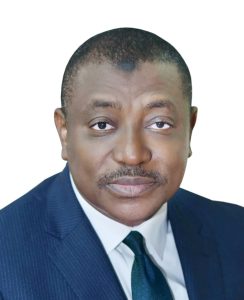 Abbas Umar Masanawa, OON, the Managing Director and Chief Executive Officer of NIRSAL Plc, is a banker and an agricultural economist with over 30 years post-graduation experience. Born in Katsina State, Nigeria, he attended Barewa College, Zaria and later, Government Day Secondary School, Katsina where he emerged the best graduating student. He went on to study Agriculture at the Ahmadu Bello University (ABU), Zaria, majoring in Agricultural Economics. At the university, his extraordinary academic brilliance shone through as he emerged the best graduating student from the Faculty of Agriculture.
Masanawa did his compulsory one-year National Youth Service at the Central Bank of Nigeria (CBN), Lagos. After his service year, his glowing track record in ABU Zaria saw him return to the school as an Assistant Lecturer in the Department of Agricultural Economics. He later gained employment at FSB International Bank as an Executive Assistant, thus setting out on a banking career that would span more than 2 decades. Between his time at FSB and Zenith International Bank, he obtained a Master's Degree in Business Administration from the University of Maiduguri.
While at Zenith Bank, Masanawa again shone brightly, contributing to the bank's performance and profitability while working in various departments including Branch Management, Zonal Management, Business Development, Strategic Planning, and Partner Liaisons. He was a Deputy General Manager (DGM) at the time of his appointment as a Special Adviser and Chief Liaison to the Governor of the CBN in June 2014. In the same year, he was appointed Executive Director, Finance, Strategy and Marketing at the Nigeria Security Printing and Minting Company Plc (NSPMC). At NSPMC, he was charged with the mandate of repositioning the company to achieve operational efficiency, meet national priorities, and achieve sustainable growth.
As an Executive Director at NSPMC, Masanawa worked to steer the company towards operating along four strategic priority areas, namely: achieve more than N60 Billion in turnover with ROCE of more than 10%; produce higher quality counterfeit-deterrent security prints and innovative services; make optimal use of workforce to achieve process excellence; and use technology to drive the achievement of strategic objectives. Following this strategic direction, he was able to help transform NSPMC from a loss-making, moribund organization to a profitable, service-driven security outfit.
Following his contributions to the growth trajectory of NSPMC, Masanawa was appointed its Managing Director and Chief Executive Officer in September 2018. He went on to record an 83.8% growth in turnover from N17.8 Billion to N110 Billion, and growth in profit to N10 Billion, all amid Zero Importation of Currency as the Mint began to meet the currency requirements of the CBN 100%, with MOUs signed with other West African Countries to print their currencies. Consequently, the Mint helped Nigeria to conserve foreign reserve, boost government revenue, create jobs, and further solidify Nigeria's Sovereignty. Pivotal to the overall efficiency of NSPMC under Masanawa's leadership were reduced cost of production, elimination of waste, revenue diversification, price optimization, and staff motivation, all hallmarks of his organizational leadership.
In the course of his career to date, Masanawa has undergone several continuing professional development courses on Leadership, Organizational Management, and Strategic Thinking and Finance across globally renowned institutions like Harvard Business School, Massachusetts, USA; SAID Business School, University of Oxford, UK; London Business School, UK; London School of Economics, UK; and Wharton Business School, Pennsylvania, USA. He is a member of the Chattered Institute of Bankers of Nigeria and the Nigerian Institute of Management (Chartered).
A humane man, doting husband and father, vibrant team player, and consummate professional, Masanawa has won numerous awards and recognitions both as a student and as a banker, as well as from his modest contributions to the empowerment of women and youth, and community development. In recognition of his impeccable public service record and contributions to the Nigerian society, Masanawa was conferred with the National Title, Officer of the Order of the Niger (OON), by President Muhammadu Buhari in October 2022.